Here at Albin Hagstrom & Son, 2021 will mark 93 years of our operation being in the business of providing the best cut foliage around to customers around the world.
The arrival of the New Year has brought several exciting changes, and we are excited to announce that we have officially fulfilled our New Year's resolution of bringing you one of our most requested features: a brand-new online store!
As of this week, you can order some of our best-selling products, shipped directly to your door via FedEx overnight shipping, directly from our farm's website.
This is pretty new for us, so we are starting our new adventure by offering "boxes" (otherwise known as "mixed cases," to use industry terminology) filled with specially selected pairings of our most popular combinations of fresh, American grown greenery.
Each box is themed around a specific occasion or season, such as Valentine's Day, a bridal bouquet or springtime. Most contain our signature Leatherleaf fern, plus an assortment of other greens, ranging from other types of ferns, such as Plumosus and Ming fern, and other leafy greens, like Podocarpus and Aspidistra.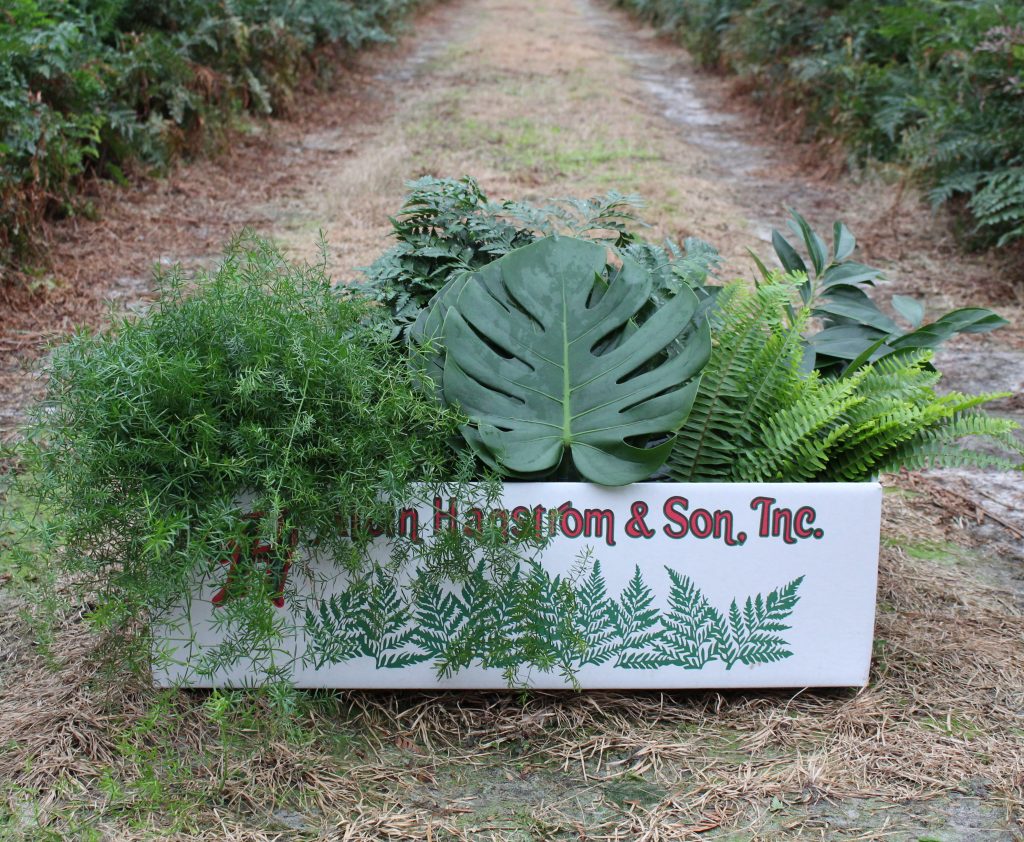 Boxes are offered in quantities of 10 bunches (two bunches of each) and 20 bunches (four bunches each) of five different greens (the number of stems in each bunch varies for each type of green) that are cut and packed with care for shipping directly to you.
---
Is your shop looking to order an assortment of greens, or looking for a convenient option that will give you a set of versatile greens to use in various types of arrangements?
Our Classic Box and Fancy Fern Box are perfect for you, with assortments of our top selling greens and ferns, respectively, perfect for bouquets, sprays, vases and much more.
Gearing up for the Valentine's Day rush, or planning to create something with flowers that will leave your Valentine "lovestruck" this year?
Our Lovestruck Box is filled with some of the most popular greens for Valentine's arrangements, such as Leatherleaf, Variegated Pittosporum and Lily Grass.
Know a bride planning a DIY celebration or a couple jumping on the "minimony" trend for their upcoming nuptials?
Check out our Bouquet Bliss Box, featuring two types of soft Eucalyptus and Plumosus, plus other greens, perfect for a bouquet, pew hangers or accent arrangements.
Need something larger for wedding décor?
No problem, be sure to consider our Enchantment Box, that includes large Monstera leaves and bushy Sprengeri, along with perfectly paired greens for beautiful centerpieces and stunning backdrops.
---
You can even create an account to save items for later in your cart, view and manage past orders, and store shipping information for faster checkout with future orders.
Don't see quite what you are searching for, or looking to plan ahead for the fall or winter holiday seasons? More boxes will be added later on.
We are also currently working on adding packs of single greens to the online store as well, and garlands and holiday decorations – such as wreaths and door swag – will be added later this year.
Visit our online store and place your first order, any time, anywhere, at albin-hagstrom.com/shop.
###
About Albin Hagstrom & Son —
Since 1928, Albin Hagstrom & Son, Inc. (www.albin-hagstrom.com) has been proud to grow and ship the best cut foliage around to customers across the globe from the "Fern Capital of the World", our hometown of Pierson, Florida.
Our operation offers cut floral greens such as Leatherleaf, Plumosus and Tree Fern, fresh hand-tied garlands, holiday wreaths and greens, and pre-selected greens boxes and bouquets for all seasons, serving a variety of wholesale and retail floral operations and enthusiasts.